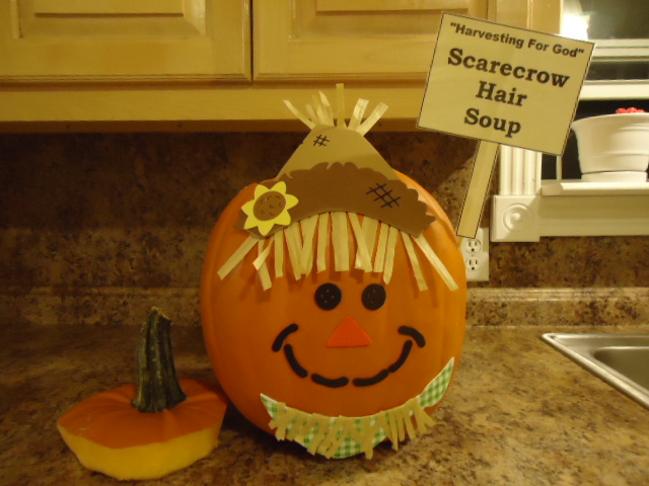 Scarecrow Hair Soup
"Harvesting For God"
1 Large Pumpkin
Chicken Noodle Soup- (Can or homemade)
Scarecrow Sign Template -printable version
Scarecrow Hat, Hair and Face (Got mine from Oriental Trading)
Bamboo Skewer- to hold sign up
Hot Glue Gun
First things first, is cut the top out of the pumpkin and gut him. Wash him up really good. Give it a good bath in the sink. Then plug your hot glue gun in to get it nice and hot so you can put it to use. You will want to glue a scarecrow face to the front of the pumpkin. You can do your own or you can buy one that is already put together for you. I bought mine from Oriental Trading. I just hot glued the hat with little hay pieces on. Then I added the eyes, nose, mouth and little scarf.
Print the scarecrow sign template that we. You will want to laminate this sign if you can or use card stock. Cut the sign out and lay aside. Now grab your bamboo skewer and position it in the pumpkin. Now grab your hot glue gun and drizzle the hot glue down the skewer. Quickly grab your sign and attach it to the stick.
Next you will want to cook some chicken noodle soup. You can make it homemade or you can buy it in a can. Which ever you prefer. You will just pour the soup into the pumpkin. The noodles are suppose to resemble the scarecrow hair-hence the scarecrow hair soup name. If you are taking this for Children's Church or Sunday school you might want to wait on pouring the soup in the pumpkin. I am going to warm the soup up at Church in the microwave and then pour it in the pumpkin. This way it's easier to transport in the car on your way there. If you want you could line the pumpkin with some tinfoil before you pour the soup in.
I came up with this snack for the kids to go along with a fall lesson I am doing. Teach the kids about the scripture in Matthew 9:37-38 - Then saith he unto his disciples, The harvest truly is plenteous, but the labourers are few. Pray ye therefore the Lord of the harvest, that he will send forth labourers into his harvest.
You might also like:
Fall Lesson
Pumpkin Clipart
Pumpkin Toilet Paper Roll Craft
God's Pumpkin Patch Snack For Kids
See All- Fall Sunday School Stuff