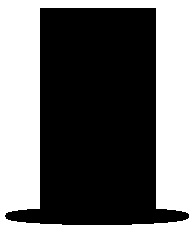 President's Day Sunday School Lesson
1 Timothy 2:1 I exhort therefore, that, first of all, supplications, prayers, intercessions, and giving of thanks, be made for all men;

1 Timothy 2:2 For kings, and for all that are in authority; that we may lead a quiet and peaceable life in all godliness and honesty.

The Bible gives some rules for choosing someone as a leader whether it is for a church or a nation. The pastor is the leader of the church. The president is the leader of the United States. The people choose a president, because they believe he will be wise and honest. George Washington was chosen as the first President of the United States because he was famous for being honest. When leaders do not live by God's rules, do they make good leaders? When King Saul did not live the way God wanted, God no longer blessed him. 1 Samuel 13:14. But now thy kingdom shall not continue: the LORD hath sought him a man after his own heart, and the LORD hath commanded him [to be] captain over his people, because thou hast not kept [that] which the LORD commanded thee.

The Lord does not look at the things people look at. People see how a person looks and acts. God looks at the heart and He judges a person's faith and character. Those are the two traits that God looks for when searching for someone after His own heart. Aren't those the traits that we should be looking for in choosing our leaders?

The Bible is pretty clear on what we should look for in our leaders, whether it is in church, for our nation or in our every day life.

1 Timothy 3:1-4 This is a true saying, if a man desire the office of a bishop, he desireth a good work. 2 A bishop then must be blameless, the husband of one wife, vigilant, sober, of good behaviour, given to hospitality, apt to teach; 3 Not given to wine, no striker, not greedy of filthy lucre; but patient, not a brawler, not covetous; 4 One that ruleth well his own house, having his children in subjection with all gravity;
Titus 1: 7 For a bishop must be blameless, as the steward of God; not selfwilled, not soon angry, not given to wine, no striker, not given to filthy lucre;*

*Filthy lucre refers to becoming wealthy through greed, harming others, or immoral or dishonest means.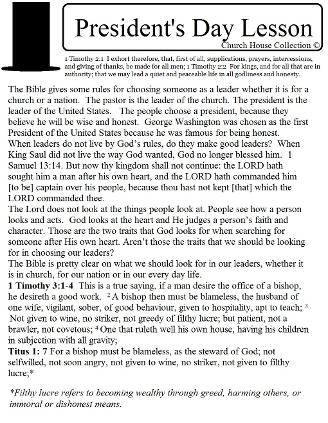 President's Day

Sunday School Lesson