The Three Little Pigs
And The Big Bad Wolf Lesson
We should really take a look at the children's story on the "Three Little Pigs And The Big Bad Wolf.". I am sure you have heard of it before. If not then just watch the video above.
There are three little pigs and each one built a house. The first pig built his house out of straw, the second pig built his house out of sticks and the third pig built his house out of bricks.
The first two little pigs didn't put much time or effort into building their house. They hurried through the making process and cut corners. The last pig worked harder and stayed at it longer than the other two.
When the wolf comes lurking around the corner he tries to blow the first house down that was made out of straw and of course he succeeds. The two little pigs run inside and try to hide in the second pigs house which was built of sticks. Notice how the wolf comes dressed as a sheep the second time! (Wolf in sheeps clothing- Mat 7:15 Beware of false prophets, which come to you in sheep's clothing, but inwardly they are ravening wolves. Mat 10:16 Behold, I send you forth as sheep in the midst of wolves: be ye therefore wise as serpents, and harmless as doves. Act 20:29 For I know this, that after my departing shall grievous wolves enter in among you, not sparing the flock. )
We need to have our eyes open to the enemy that pretends to be something they are not. Wolves are sent in to to destroy. They are not sent there for any other reason. A wolf is a wolf. A sheep is a sheep. A sheep can be lost, and then found by the shepherd, but a wolf was born a wolf and will never become a sheep. We have to have understanding on this. He that has ears to hear...let him hear.... A wolf was born a wolf and will die a wolf. The shepherd does not convert wolves and bring them into the sheep fold. The wolf will kill, steal, and destroy the sheep fold. (John 10:10 The thief cometh not, but for to steal, and to kill, and to destroy: I am come that they might have life, and that they might have it more abundantly.) The shepherd is there to protect the sheep. We are the sheep. You will never read in the scriptures that Jesus went to the wolves to bring them in and save them.... He went to the lost sheep..... The shepherd protects the sheep..That is why he is there. If a wolf comes in, it would kill the sheep. The shepherd can not allow that. The shepherd will kill the wolf in order to save his sheep fold. That is what the shepherd does. He looks out for the sheep. He loves his sheep. He cares for them.
Notice how the last little pig worked long hours and put in a lot of time to build his house. He took notice of how the other two little pigs had spare time to go play and goof off but he knew that he had to keep going and working when everyone else was doing their own thing. This pig knew that the wolf could destroy. This pig knew the key to protecting his home was to build it out of bricks or stone like he said. When your home is founded on the rock (Jesus) the wolf can not blow your house down...
(Psalms 31:3 For thou art my rock and my fortress; therefore for thy name's sake lead me, and guide me.

Psalms 62:2 He only is my rock and my salvation; he is my defence; I shall not be greatly moved.

Psa 71:3 Be thou my strong habitation, whereunto I may continually resort: thou hast given commandment to save me; for thou art my rock and my fortress.

Psa 78:35 And they remembered that God was their rock, and the high God their redeemer.

Psa 89:26 He shall cry unto me, Thou art my father, my God, and the rock of my salvation.
Psa 92:15 To shew that the LORD is upright: he is my rock, and there is no unrighteousness in him.
Luk 6:48 He is like a man which built an house, and digged deep, and laid the foundation on a rock: and when the flood arose, the stream beat vehemently upon that house, and could not shake it: for it was founded upon a rock.
So we find that the other two pigs lost their homes from the wolf and then ran to the last pig that built his house from brick. The were in fear and scared and hid under the bed. The little pig that built his house in bricks was confident his house would stand against the wolf. That is where your faith kicks in! We have to be confident in God. If we do what we are suppose to do and listen to the Lord on what he is telling us then rest assured he will take care of you. The wolf thought he would pull a fast one and tried to enter the home through another way. Instead of breaking down the door he crept on top of the house to go down the chimney. He tried to use another way of entry. The wolf didn't expect to find a fire lit and water boiling below him. He got himself into some hot water! The wolf took off out of there and didn't come back. (James 4:7 Submit yourselves therefore to God. Resist the devil, and he will flee from you.)
The wolf learned not to mess with this one little's pig's house. Dangerous things happen to wolves when they try to come against the house that is built out of bricks or stone! (Rom 12:18 If it be possible, as much as lieth in you, live peaceably with all men. Rom 12:19 Dearly beloved, avenge not yourselves, but rather give place unto wrath: for it is written, Vengeance is mine; I will repay, saith the Lord.)
John 17:9 I pray for them: I pray not for the world, but for them which thou hast given me; for they are thine.
Jer 14:11 Then said the LORD unto me, Pray not for this people for their good.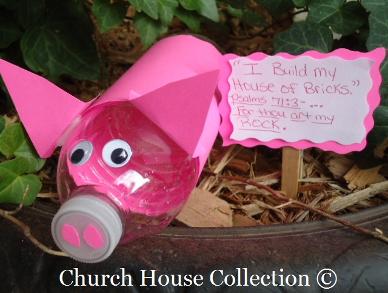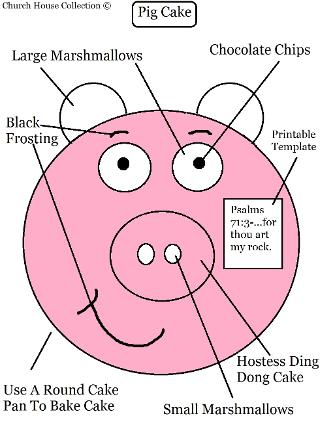 With Scripture From Psalms 71:3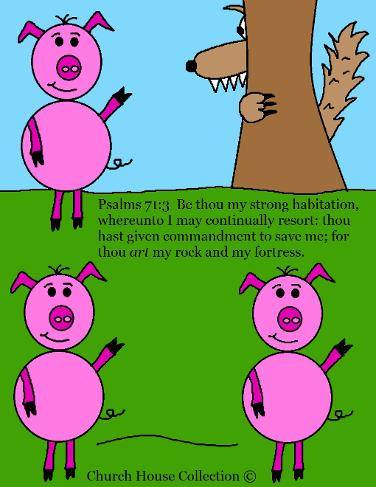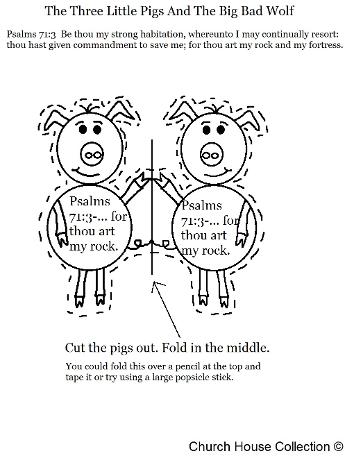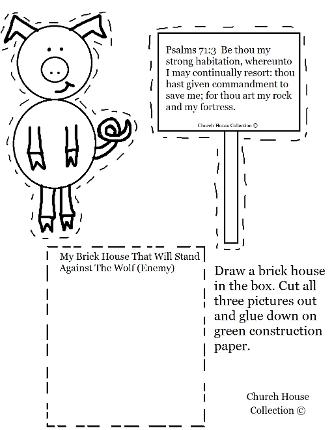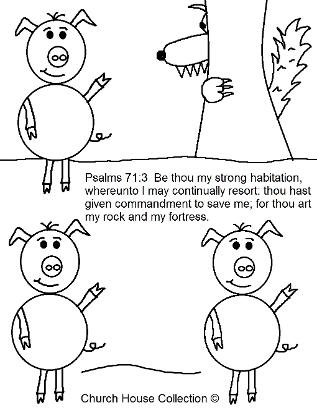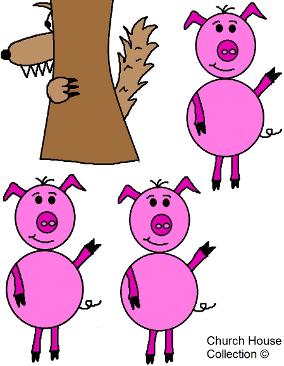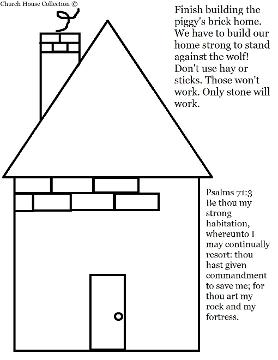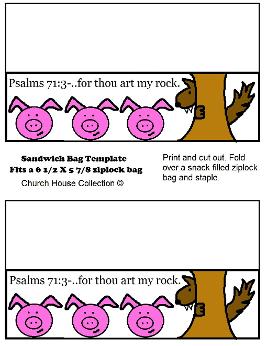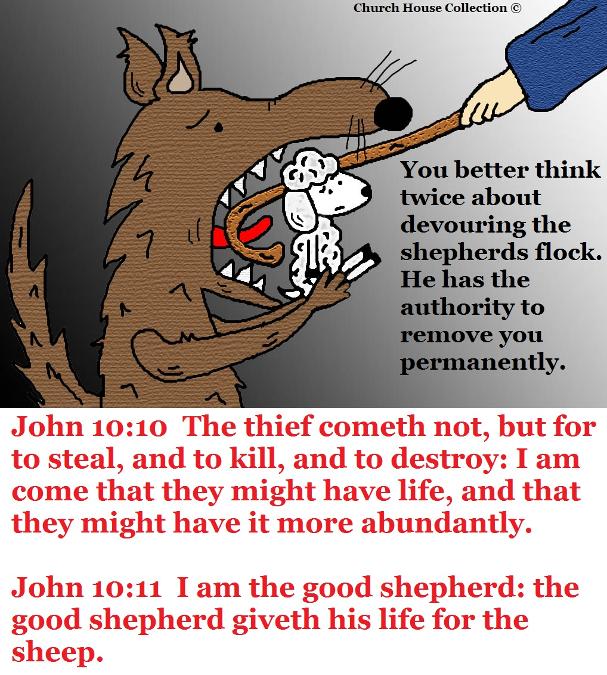 Mat 5:44 But I say unto you, Love your enemies, bless them that curse you, do good to them that hate you, and pray for them which despitefully use you, and persecute you;

God wants you to have a clean and pure heart....Let the Lord fight the battle for you. Don't go get yourself in trouble. God is very mighty and powerful. He can do anything. God can do things that you can not do. Just build your house upon the rock and God will make sure it stands! Always LISTEN to what God is telling you...You will never go wrong when you heed to him. He will let you know exactly what to do and when to do it. Just obey... If God tells you to pray, then pray...If He tells you to be still, then be still...If He say's Go Forward, then go forward. He WILL SPEAK TO YOU. Just listen....
Back to Home Page
You might also like: