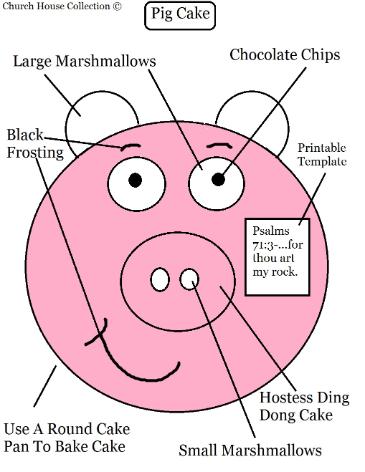 The Three Little Pigs
Cake


Psalms 71:3 Be thou my strong habitation, whereunto I may continually resort: thou hast given commandment to save me; for thou art my rock and my fortress.
Printable Scripture Template
Just take a round cake pan and bake a cake in it. Let it cool and then ice it with some pink icing. Add your Hostess Ding Dong Cake in the middle for the nose and ice over that with the pink icing. Add two tiny marshmallows for the nose.
Take two large marshmallows and use them for ears and stick them in the top of the cake. They sell REALLY REALLY Large campfire marshmallows and you could use these. They sell them at Walmart but If they don't offer those were you live then you could just use regular large marshmallows. You could use two together if you need to make the ear bigger. You could even cut them into a triangle if you want. Then add two large marshmallows for the eyes. Dab a little frosting on the back of the chocolate chip and lay on top of the large marshmallow for the pupil part of the eye. Draw the mouth and eyebrows on using black frosting. Print the scripture template out and cut out and laminate. Stick to the cheek of the pig. Or you could just use a black icing writer to write the words on. Just shorten it and write Psalms 71:3 on it instead.
Use this cake to go along with "
The Three Little Pigs And The Big Bad Wolf Lesson
" we offer. It has matching content to go with it like a coloring page, maze, craft and more!