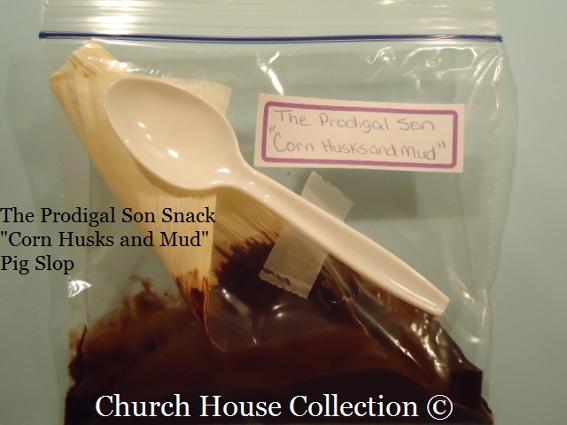 The Prodigal Son Snack
"Corn Husks And Mud"
Pig Slop
Luke 15:16 And he would fain have filled his belly with the husks that the swine did eat: and no man gave unto him.


Corn Husk
Plastic Spoon
Tape
Chocolate Pudding
Ziplock Bag
Sticker Label
If you are doing a lesson on the prodigal son then this will make the perfect little snack to go along with it. This is what you call PIG SLOP! haha This is just a ziplock bag with a corn husk and chocolate pudding inside. I wet the corn husk down in water before I stuck it in the bag.
I taped a spoon to the outside of the bag. I wrote the words, "The Prodigal Son" Corn Husks and Mud" on the front of a sticker label and stuck it on the front of the ziplock bag. You could write a scripture instead if you want.
Back to The Prodigal Son Lesson