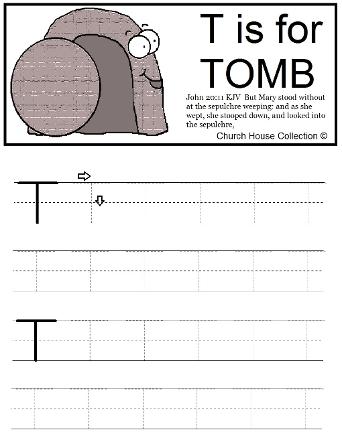 Resurrection of Jesus

"T Is For Tomb" Tracer Page
John 20:11 KJV But Mary stood without at the sepulchre weeping: and as she wept, she stooped down, and looked into the sepulchre,


Colored Tomb Tracer Page- printable version
Black and White Tomb Tracer Page- printable version
This is a free printable tracer sheet for smaller children that are learning how to write their letters. If you are doing a lesson over the Resurrection of Jesus and have very small children in your class you can print one of these out for them to do. This sheet has the scripture from John 20:11 on it. These would also work great for kids at home too.
Tell them that tomb starts with the letter T. Jesus died on a cross and was laid in a tomb. After three days he came back to life.
Use this sheet with our matching lesson plan "Resurrection Of Jesus Sunday School Lesson".

You Might Also Like:
Home
Easter- see all
Easter Coloring Pages
Easter Lessons
Easter Crafts
Easter Clipart
Easter Snacks