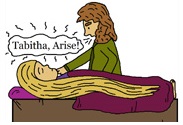 Peter Raised Tabitha "Dorcas" From The Dead Clipart
Image Picture Illustration

This is a free clipart image I drew of Peter raising Tabitha back from the dead. Just copy and paste onto what you need. Do not sell this image or add it to a free collection of your own on your website. Thanks! For personal use only.
Back to
Peter Raised Tabitha Lesson