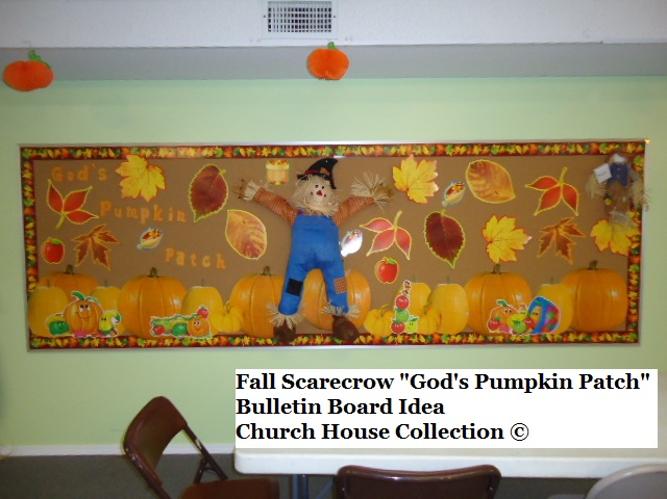 Fall Scarecrow "God's Pumpkin Patch"
Bulletin Board Idea For Sunday School


By Church House Collection
Supplies:
Fall Leaves Border-Jumbo Fall Leaves Classroom Cutouts
Orange Letters-Jumbo Pumpkin Classroom Cutouts
Large Stuffed Scarecrow
1 Small Scarecrow
1 Small Bible To Staple to little Scarecrow (made from jello box)
Fall Pumpkin and Squash and Fruit Set
Pumpkin Tissue Decorations -(To add to the ceiling)
I did not cover the bulletin board in any paper. I just left it brown because it blended well for the fall look. I covered the bulletin board in some fall leaves border. I just stapled that all around the board. Then I added some very large pumpkins at the bottom of the board and stapled those on.

I stapled large leaves all over the board. Then I stapled the fruit and squash set at bottom and scatted the apples, and corn all around the board too. I also bought a large scarecrow that you have to stuff yourself and stapled that to the center of the board.

I added a small scarecrow in the upper right hand corner. I bought that from Walmart and then I added a small bible in it's hand. I made that by using an empty jello box. I just covered a small jello box with white paper and wrote the word "Bible" on the front.

I also hung Pumpkin tissue decorations all along the top above the bulletin board close to the ceiling. Most stuff was bought through Oriental Trading.