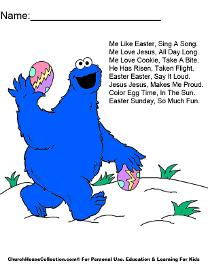 Easter Cookie Monster Poem
Coloring Page
Print this Cookie Monster Easter Poem coloring page out and let the kids have fun coloring this.
Me Like Easter, Sing A Song.
Me Love Jesus, All Day Long.
Me Love Cookie, Take A Bite.
He Has Risen, Taken Flight.
Easter Easter, Say It Loud.
Jesus Jesus, Makes Me Proud.
Color Egg Time, In The Sun.
Easter Sunday, So Much Fun.
Black and White- printable version
Colored- printable version
2010© Copyright Church House Collection