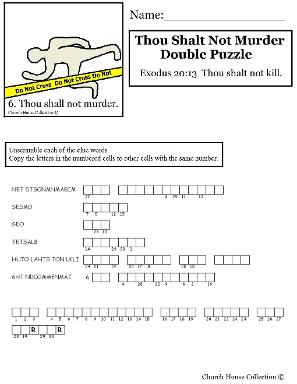 Thou Shalt Not Murder
Double Puzzle
For The Ten Commandments


Exodus 20:13- Thou Shalt Not Kill

Thou shalt not murder double puzzle-
printable version
This is a printable worksheet for kids that are learning the Ten Commandments. This is the 6th commandment of the Ten Commandments. Have the child unscrable the word and write the letters in the box. Then have the child match the numbers up with the letters and write the letter in the very bottom boxes to solve the phrase.
We have a matching lesson that goes with this, "
Thou Shalt Not Murder Sunday School Lesson"
. Or try looking through all of the
Ten Commandments Sunday School Lessons
.