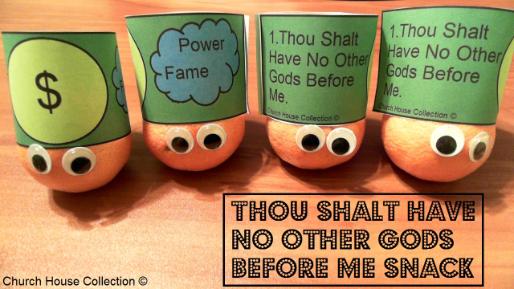 Thou Shalt Have No Other Gods Before Me Snack
"1st Commandment"
Exodus 20:3 Thou shalt have no other gods before me.


Trying to come up with a snack for the first commandment was pretty tough. I just made the printable template that you see up above and printed it out. I sat and starred at the template after I cut them out and thought now what can I do with these... I went into the kitchen and saw my bowl of cutie oranges and thought hum...I wonder... So I took one of the templates and folded the template into a circle and taped the inside. Then I sat the little template on top of the "cuties" orange like a small hat.

Then I added some google eyes by taping those on. I wanted my sticker eyeballs, but while digging through my pile of craft junk with no luck, I realized my sticker eyeballs were at church in my cabinet. Sticker eyes would have looked much better in my opinion.

Try making this fun snack for the kids when teaching on the 10 commandments. This snack is for the first commandment- "1. Thou shalt have no other gods before me."