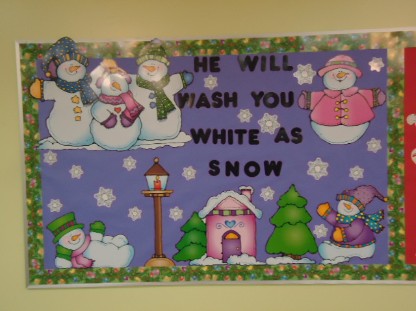 Snowman Bulletin Board Idea For Church
"He Will Wash You White As Snow"
Isaiah 1:18 Come now, and let us reason together, saith the LORD: though your sins be as scarlet, they shall be as white as snow; though they be red like crimson, they shall be as wool.
I covered the background with purple paper. I added green Christmas lights border. I bought a snowman bulletin board set from the store and just added that to it. I added the words "He will wash you white as snow" to the bulletin board. Teach the kids how Jesus came to the earth to die on a cross just for our sins and he will wash you clean of them if you ask him to.