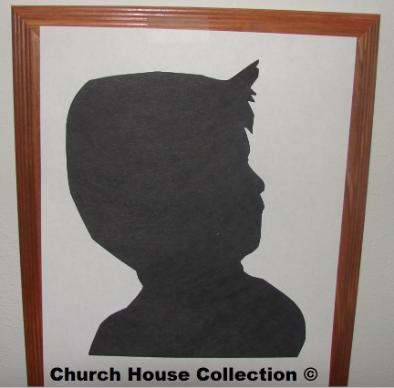 Silhouettes for Mother's Day
Colossians 3:20 Children, obey your parents in all things: for this is well pleasing unto the Lord.
Camera

Printer

Scissors

Colored paper

Glue Stick

Crayons or markers

Ink pad or finger paints
This is an old idea that will make the mothers of your students happy.

It takes a little work on your part, but the rewards are worth it.
Have the child stand sideways next to a blank wall.

The more contrast, the better this works.

Snap a photo and print it out on plain paper.

Just a black and white copy is all you need.

Trim off the outer edges, leaving only the outline of the child and a little extra.

Tape the picture to a piece of colored construction paper or card stock.

(I used black and white to be traditional, but any color will work.)

Cut around the outline of the child's head and neck.

Carefully place the cutout on a contrasting piece of paper and glue it down.

Those who are older can do these last steps, but you will need to assist younger students.
Now, to let the child get creative have him or her draw flower stems and top it off with finger print flowers as a border.

It can be as simple as using single finger prints for tulips or more involved such as a cluster of prints in a circle for a daisy. You could have the students work on this while you are busy cutting out those silhouettes.