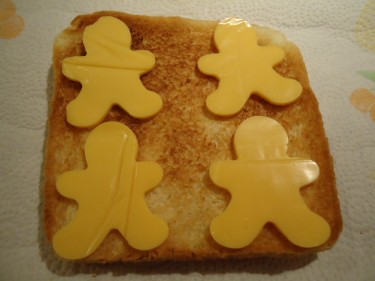 Jesus Loves The Little Children
Cheese Toast Snack


Mark 10:13 And they brought young children to him, that he should touch them: and his disciples rebuked those that brought them.
Mark 10:14 But when Jesus saw it, he was much displeased, and said unto them, Suffer the little children to come unto me, and forbid them not: for of such is the kingdom of God.
Mark 10:15 Verily I say unto you, Whosoever shall not receive the kingdom of God as a little child, he shall not enter therein.
Mark 10:16 And he took them up in his arms, put his hands upon them, and blessed them.


Supplies:
Toaster
Bread Slices
Cheese Slices
Very Small Gingerbread Man Cookie Cutter
I took my toaster to children's church class to make this. I just took my bread and toasted it and used my gingerbread cookie cutter to cut four little men out of the slice of cheese. I laid one cheese man onto a half a piece of toast for each child. The bread and cheese went a lot farther doing it this way.
Use this fun snack to go with our lesson that we offer-
"
J
esus Loves The Little Children Sunday School Lesson
"