Ice Cream Cone "Jesus Is Sweet"

Bulletin Board Idea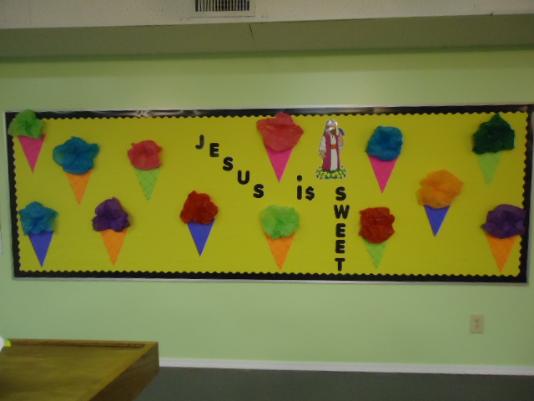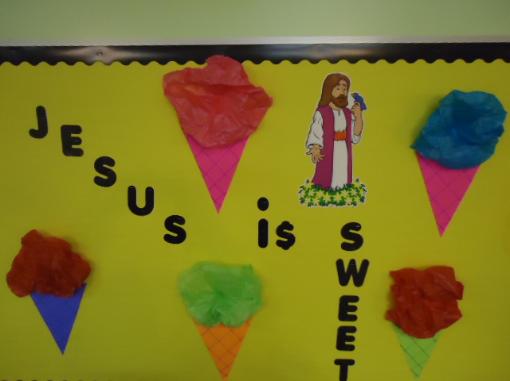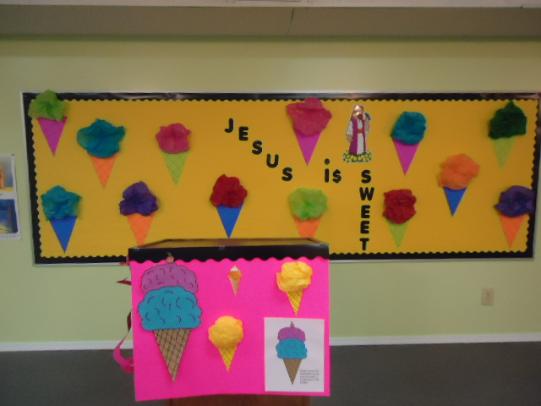 To make the Jesus Is Sweet Ice Cream Bulletin Board you will need:
Yellow Background Bulletin Board Paper
Black Letters- (for the words "Jesus Is Sweet")
Black Marker- (to draw cone lines)
Pen- (To draw cone)
Different Colored Tissue Paper- (as the ice cream)
Different Colored Paper- (for cones)
Scissors
Ruler - (to make straight lines on cones)
Black Trim
Staples- of course to staple the stuff on!
Jesus- (I bought my from the store but you can make your own)
Staple your yellow background bulletin board paper on.
Add your black trim.
Staple your Black words on that spells out "JESUS IS SWEET"
Add Jesus next to the words. I bought mine at a christian bulletin board store. I just used the Jesus that came in a bulletin board set I had purchased. You can also make your own by printing this
hand draw Jesus
out but make sure you print this out in the POSTER option on your computer. You will have a print preview button to click on your computer. Then a preferences button. Click that and then you should have another option where you can look at the layout. This will give you an option for Poster. Pick the 2x2 option. This will print this Jesus picture out really large using 4 sheets of paper. Then just cut that out and tape it together. You could have it laminated so it will last. If you don't want to mess with all that, then just go by a bulletin board set that has a Jesus in it. This will save some time for you. I recommend doing that, unless you just can't find a Jesus in a bulletin board set.
Put this bulletin board up for VBS or use it to go with our Ice Cream Sunday School Lesson.
To Make The Ice Cream Cones:
Take 1 sheet of Colored Paper and draw a long triangle on the paper using the ruler and pen. Use the entire length of the sheet of paper to make this triangle. You will only draw 2 straight lines with the pen. It will look like one large christmas tree. Now cut this out. Take your ruler and begin to draw your lines on them. Draw all your lines from left to right using the ruler and black marker. Then when you draw the lines on from right to left you will cross over the other lines and this makes it look like an ice cream cone. Now staple your cone to the bulletin board using two staples, one at the top and one at the bottom. You can use different colored cones with different colored ice cream or you can match them up if you want. You could use just all brown cones and then use one certain color for the ice cream. I just went with multi-colored cones and ice cream for a more wild look.
To Make The Ice Cream:
Take 1 sheet of colored tissue paper. Now crumble it up in a ball in your hand, not to tight. This is just to add some wrinkles to it for the fluffy ice cream look. Now unfold it again. Take and pull all four coners of the tissue paper in the middle and carefully put it to the bulletin board to staple it right smack in the middle. You may need to work it a little bit. Make sure the four corners are facing toward the bulletin board and not you. You don't want those to show. You want the smooth ice cream look. I only used one staple in the middle of the ice cream and this also went through the four corners I had pulled together. (I hope I am making sense here lol)