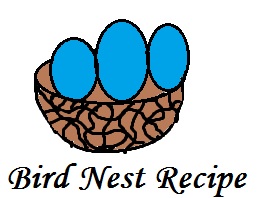 His Eye Is On The Sparrow Recipe
Bird's Nest Snack


Crispy rice cereal, marshmallows, butter, peanut butter, chow mien noodles, wax paper and jelly beans.

1/4 c. butter
1/4 c. chunky or creamy peanut butter
40 lg. marshmallows
3 c. crispy rice cereal
1 cup chow mien noodles

Melt the butter and stir in the peanut butter. Add the marshmallows to the butter-peanut butter mixture and heat until melted. Stir in the cereal and noodles until well coated. Spoon out onto wax paper into about ¼ cup (about 60 cc) portions. Quickly make an indention in the center of each portion with the back of a buttered spoon. When cool, place two or three jelly beans in each "nest".
This recipe makes about 12 small nests if you count the ones you ate yourself. Use this recipe to go with our Lesson.