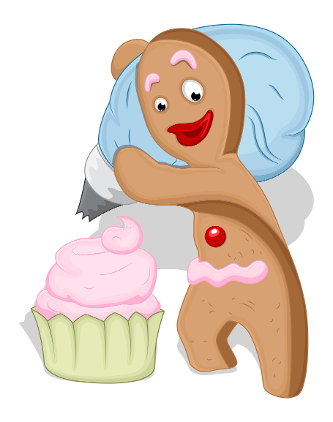 Gingerbread Party For Children's Church


We threw the children's church kids a gingerbread party yesterday. Last year we let the kids try to build their own gingerbread houses out of graham crackers, and it didn't work so well, because the frosting we used was not hard enough. (frosting from a can does not dry hard therefore does not work) duh! You think we would have understood that. So this year we tried it a little different.
My husband constructed about 27 (very hideous looking) houses for them the night before. (I helped a little.) He never got his Gingerbread Carpenter License as you can tell from the photos. He's use to working with wood and nails, not graham crackers and frosting!
We used a powdered sugar icing that dries into a very hard glue to stick the graham crackers together. We took them to church the next day and let the kids decorate them. This was a lot easier for them. Last year they just ran out of time trying to get it built and decorated. There was styrofoam bowls filled with different kinds of candies for each table. We had gummy bears, peppermints, sweet tarts, mints, gum drops, candy canes, and more. We also had cans of frosting for them to ice their church house. We put on some Christmas music to set the mood for them. We also brought the graham crackers and powdered sugar in case someone wanted to add to their Church house.
We served them hot chocolate with marshmallows and gave them a candy cane to stick down in their cup.
That is if the candy cane survived the hot liquid and didn't melt into practically nothing. Mine didn't make it. So disappointing, you know.
My husband wanted to try different flavored candy canes this year instead of peppermint, so we got sweet tart candy canes. Some of the kids liked them, and some did not.
I bought a Foil Gingerbread Door Curtain from Oriental Trading to hang in front of the door in the children's church area.