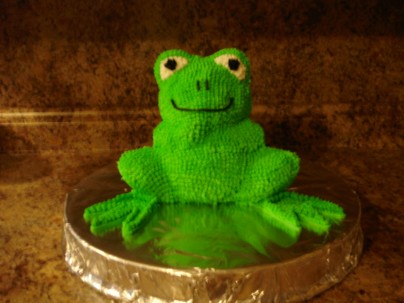 Frog Cake
For The 10 Plagues of Egypt

Exodus Ch.8-Frog Plague
Exodus 8:2-And if thou refuse to let them go,

behold I will smite all thy borders with frogs.

Box of Cake Mix-any kind you want

Teddy Bear Pan (try ebay if you need one)


White Icing

Black Icing


Green Food Coloring

Piping tips and bags
Bake your cake in the Teddy Bear Pan.
Color your white frosting green and pipe it on frog.
Make him some feet on the pan cause he won't have any cause he's a bear, remember.
His ears are his eyeballs. Put some white frosting for his eyes and black for pupils.
Draw him a smiling face and two marks for his nose.