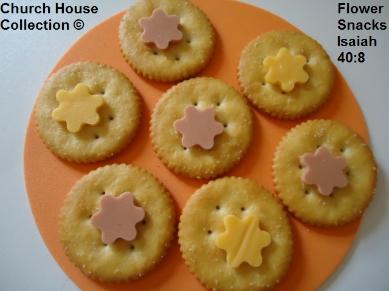 Flower Cracker Snacks
(Can use for Mother's Day snacks too)

Isaiah 40:8- The grass withereth, the flower fadeth: but the word of our God shall stand for ever.

Would you like a flower cracker? These are so simple to make for kids. Just lay out some ritz crackers. Use a flower cookie cutter to cut out flowers from cheese and bologna. To make this flower snack even more pretty, just add some cream cheese to the cracker first then add your little flower.

If you don't have a flower cookie cutter then try this instead. Just smear your ritz cracker down in cream cheese and then make a cute little flower on top using squeeze cheese. Or you could just put a black olive on top of the cream cheese and put little tiny strands of carrots for the petals. Or just skip the cream cheese and just make a flower using the squeeze cheese.

Use this with our Flower Sunday School Lesson that goes with it. It has lot's of matching stuff.
Back to: