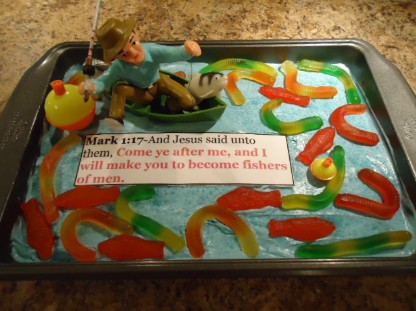 Fishers Of Men Cake

Mark 1:16 Now as he walked by the sea of Galilee, he saw Simon and Andrew his brother casting a net into the sea: for they were fishers.

Mark 1:17 And Jesus said unto them, Come ye after me, and I will make you to become fishers of men.

Mark 1:18 And straightway they forsook their nets, and followed him.

Mark 1:19 And when he had gone a little further thence, he saw James the son of Zebedee, and John his brother, who also were in the ship mending their nets.

Mark 1:20 And straightway he called them: and they left their father Zebedee in the ship with the hired servants, and went after him.


1 Package of Gummy Worms
3 Tablespoons of Sugar & Blue Food Coloring-(To make blue sugar crystals) OPTIONAL
1 Package of Small Brand New Fishing Bobbers (You need 2)
Optional- Man with fishing pole in a boat (Got this at a cake store)
1 Package of Swedish Gummy Fish
White Cake Mix
White Frosting (Tint blue)
Mark 1:17 Scripture Template (template below)

Bake your cake. Tint your white frosting blue. Cover cake in blue icing. If you have a fisher man and a boat then add that. If you don't have one then just cover the cake in gummy worms, Swedish Gummy Fish and Fishing Bobbers. If you have blue sugar crystals then sprinkle that all over the cake for a sparkling water effect. No blue sugar crystals? Then let's make some. Just take 3 Tablespoons of sugar and add to a small bowl. Add only 1 drop of blue food coloring to the sugar. Now mix it up real good, smashing the color into the sugar. Then sprinkle all over the cake. Print the Mark scripture template out and laminate it. Cut it out and lay down on cake.