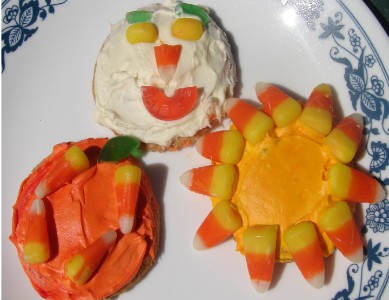 Fall Festival Cookies

Matthew 9:37- Then saith he unto his disciples, The harvest truly is plenteous, but the labourers are few.
Sugar cookies

Can of white icing

Food coloring

Candy corn

Gummy Life Savers

or any round gummy candy

Buy some medium sized plain sugar cookies. I used store brand cookies that are 2 ½ inches in diameter. If you are motivated, you can make homemade ones. However, the children do not seem to mind as long as there is icing. Divide a can of white icing such as cream cheese flavored icing into small bowls and tint with fall colors. Use your imagination to create things such as the sun, funny faces, pumpkins, oranges, etc. Consider icing the cookies ahead of time and let the students get creative with the toppings.

Try making these cookies to go along with one of our Fall Sunday School Lessons. It comes with Coloring pages, Prayer Requests, Activity Sheets, Crafts, and more!
We have some Church Fall Festival Ideas for you to do with the kids. We also have Printable Fall Award Certificates. We have Pumpkin Coloring Pages and Pumpkin Clipart.

We have more Sunday school lessons that has unique Snacks for Kids.