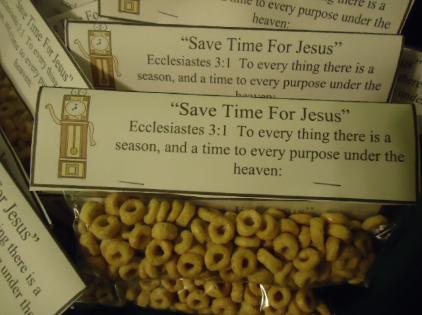 Daylight Savings Time Snack "Save Time For Jesus"

Ecclesiastes 3:1- To every thing there is a season, and a time to every purpose under the heaven:
"Save Time For Jesus" Template- printable version

Honey Nut Cheerios Cereal (Or something else)




Ziplock Bags

6 1/2 X 5 7/8
Print the template out and cut it out. The templates makes 2 sandwich bag snacks. Fold the template over a snack filled bag of cereal or something else and staple on each end. Use this snack to go with our Daylight Savings Time Lesson plan that matches it.
Fill the snack bag with anything round that might resemble a clock. You could make clock cookies if you wanted. Just ice a cookie and pipe on the just the hands of the clock with dots for the numbers. Or if you wanted you could pipe the numbers on. Not sure if you want to go through all that trouble to ice those numbers on but if you do, that is always a neat option. You could also fill the bag with round ritz crackers and pepperoni's. Or just fill the bag with honey nut cheerios like I did.

You Might Also Like:
Daylight Savings Time Coloring Pages
Daylight Savings Time Coloring Pages For School Kids