Christmas Play
Invitations For Church

If you are having a Christmas play at your church, and want to hang a paper up to advertise that your having a play then look through the templates, and SAVE IMAGE AS to put on your computer.

From there you can upload the picture into a PAINT program or a MICROSOFT WORD program, and add the name of your church, date and time. This is just a picture template for you to add your information.

If you are not sure how to do any of that then you can always use a black marker to put the church, date and time on it. You can also use the template that has lines on it as a sign up sheet if you want. Just use them however you need.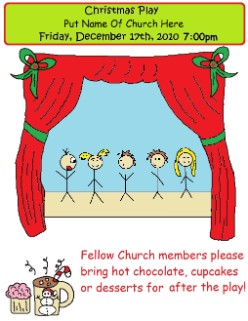 EXAMPLE : The picture on the left here is an example of what your information will look like when you add it to the paper. Just add the name of your play, church and date inside the green box.
You can use a marker or just put your mouse over the picture and click the right mouse button and click the option SAVE IMAGE AS. This will save the picture to your computer.

Then open the picture up in your PAINT PROGRAM on your computer. Make sure you properties are set as 8.5 X 11 for Width and Height. Click the text button in paint and add the text to where it lines up in the box of the Christmas play template. Type your information. Then print it out. If this is too hard to do for you then just print it out and use the marker to fill the information in. It's really easy once you get the hang of it though.