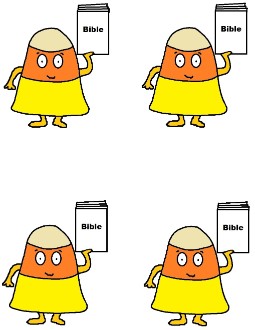 Candy Corn Holding Bible Template
Candy Corn Template- Printable Version

If you like candy corn then you will really like these candy corn that are holding Bibles up. Use these candy corn templates for many different things. You can print them out and cut them out by just cutting around the whole picture (You do not have to cut on the lines. Just cut around the form. I hope I am making sense)

Use them for bulletin boards by laminating them. You could print them on peel and stick paper and add them to jars, notebooks for kids, scrap-booking, stickers for kids, cups filled with treats or ziplock bags filled with treats, paper lunch bags or anything else you can think of. Attach them to popsicle sticks for puppets, or use the sticks in a fall decoration for your table.

You could also print them out on card-stock and laminate and cut around the picture and hang them from a fall tree for decoration. Just go outside or in the words and find a large dead stick tree. One that has plenty of dead branches. Break it off and bring it to your class. Punch holes in the laminated candy corn and put yarn or string through it and tie to the branches. These little candy corn men would look adorable hanging from the fall tree in your classroom. Let the kids know that reading the Bible is very important.
You could also make these into Candy Corn Cupcake Toppers if you wanted. They would be really large but they sure would be cute. Just print and laminate (optional) and tape a toothpick to the back and stick down in cupcake.

You might also like:
Fall Lessons -See All