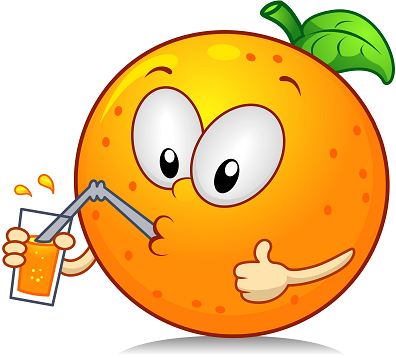 Orange "Summer Sunday School Lesson Idea
KJV Proverbs 15:13-
A Merry Heart Makes A Cheerful Countenance,
but by sorrow of the heart the spirit is broken.
Happiness Makes A Person Smile,
But Sadness Breaks A Person's Spirit
I went with an orange theme for the scripture. Orange juice makes a lot people happy and its feels like a summer drink to me so that is why I used it. Put your own spin on the ideas and templates to create something totally different to fit your lesson plan needs at church. You could even do a folder lapbook with these templates. Have fun!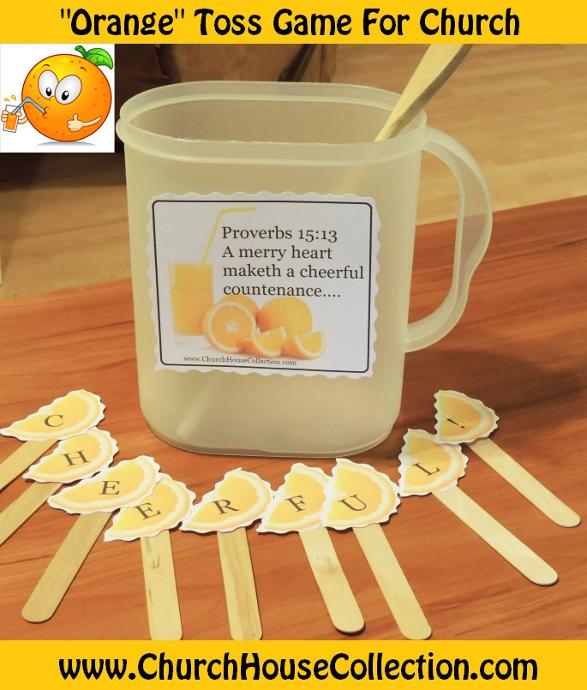 Orange Toss Game
Just print out the orange slice template on white card stock. Then use some decorative cutting scissors to cut each orange slice out. The letters on each orange slice will spell out the word "CHEERFUL". This goes along with the scripture from Proverbs 15:13 A merry heart maketh a cheerful countenance, but by sorrow of the heart the spirit is broken.
Tape the orange slice to a popsicle stick to give it some weight. I used really large popsicle sticks that I got from Oriental Trading. If you don't have popsicle sticks then you always try clothespins instead.
You will need a pitcher for the kids to toss their orange slices into. Just print off the template that has the orange juice and scripture on it. Cut it out and tape it to the front of the pitcher.
Put the pitcher in the floor and have the kids stand in a line. Hand the first kid 3 orange slice sticks. Give them three tries to get one of the orange slices into the pitcher. Make sure that they are far enough back from the pitcher to make it somewhat challenging. If they get the orange slice in the bucket then give them a prize like a sucker.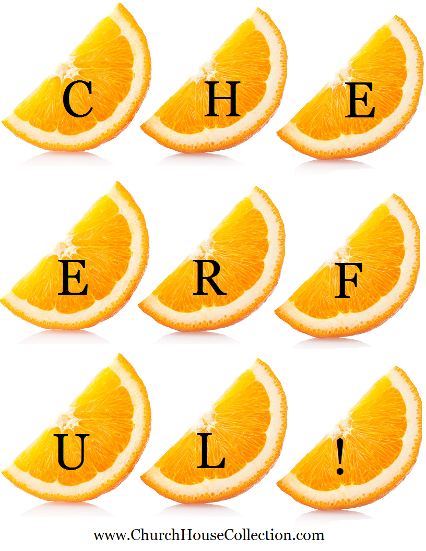 Printable Orange Slice Template- printable version
Here is the Orange slice template to print and cut out. Then just tape them on to large popsicle sticks or clothespins. It just needs something that will make it heavy enough for the kids for when they throw it into the pitcher. Make sure you print on cardstock.
You could also use these for a folder lapbook. Just print and cut out the orange slices. Then have the child write on each orange slice what makes them happy and tape a large popsicle stick to the back. Stick them down in a handmade pocket on the inside of the folder. See the picture down below to get an idea of what you can do for a folder lapbook.
Orange Juice Template- printable version
The above Orange Juice template with the scripture from Proverbs is what you will need to cut out and tape to the front of your pitcher. This was made an 8.5x11 image but the actual image will not be that large. I tried to make it small enough to fit onto a pitcher.
Orange With Scripture Template- printable version
You could also use this for the pitcher if you like this picture instead of the other orange juice image but this is actually a craft for small kids to cut out and tape onto a piece of colored construction paper. They also could use stick glue.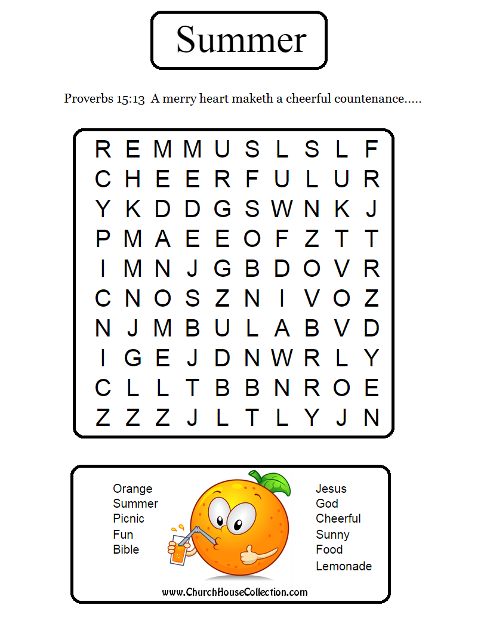 Printable Word Search-printable version
Here is a printable word search. Just print this out and let the kids find the hidden words.
Orange Cross Word Puzzle- printable version
Here is a printable Summer Orange Crossword Puzzle. Just print it out and let the kids fill in the words.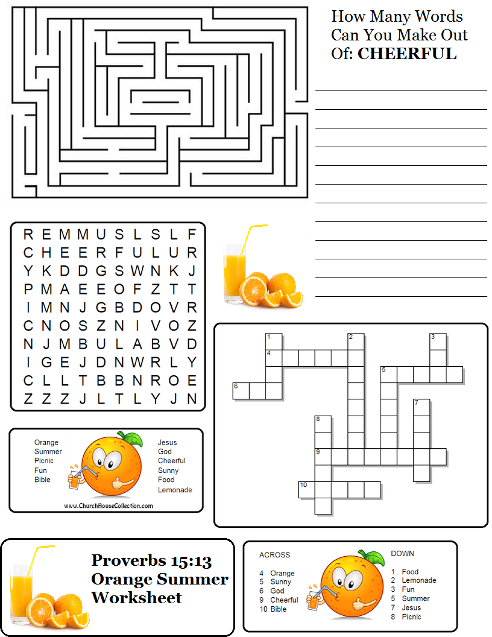 Orange Worksheet-printable version
Here is a printable worksheet that has a maze, word search, crossword puzzle and a how many words can you make out of CHEERFUL. Just print this out and let them have fun!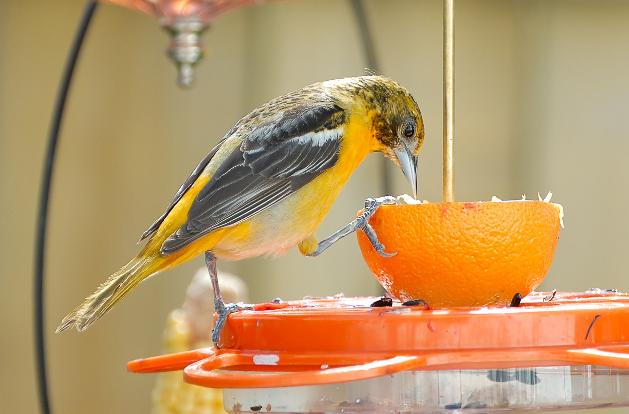 Orange Bird Feeder Activity For Children's Church
Buy bags of oranges depending on how many kids you have in your class and slice in them in half. Hand the kids the orange and let them scoop out the orange with a spoon. They can eat the orange or they can put it in a ziplock baggie to eat it later when they get home. After they get the orange scooped out of it then let them poke four holes in the orange peel on opposite sides about 1/2" from the top edge of each half. Use some twine to thread through the holes and tie in a knot. Fill the empty orange slice with bird seed and hang from a branch.
The kids could take a small plastic baggie of the bird seed with them so they can just fill it up when they get home. You don't want any spills in the car on the way home, if you know what I mean. lol
You can tie this orange slice bird feeder idea with the scripture from Proverbs by telling the kids that the bird seed makes the birds have a merry heart and gives them a cheerful countenance. :)
Here is some Orange Slice Craft Ideas:
Orange Slice "Cheerful" Paper Plate Wreath
Take the orange slice cheerful template up above and print one off for each child in your class. Have them cut the orange slices out. Give them a paper plate and have them cut the middle out of it. Then have them tape the orange slices all around the paper plate to make a wreath. Use a hole punch and add a hole in the top of the wreath and run some ribbon or yarn through it.
Painted Orange Slices (Paper Plate)
Just cut a paper plate in half. Then take some masking tape and mark of the segments of the orange orange to create the slices. Let them paint it orange and let dry. Pull of the tape and outline with a black marker. Here is website that I found that shows what it looks like at innerchildfun.com.
Draw An Orange With Scripture
Just have them use a black crayon to draw a large circle on their paper. Have them color it orange. Then let them use a black crayon to write"Prov 15:13" on it. This is a really simple and easy one those that are pressed for time and have a large amount of kids to work with.
Here Is The Folder Lapbook Pictures Below: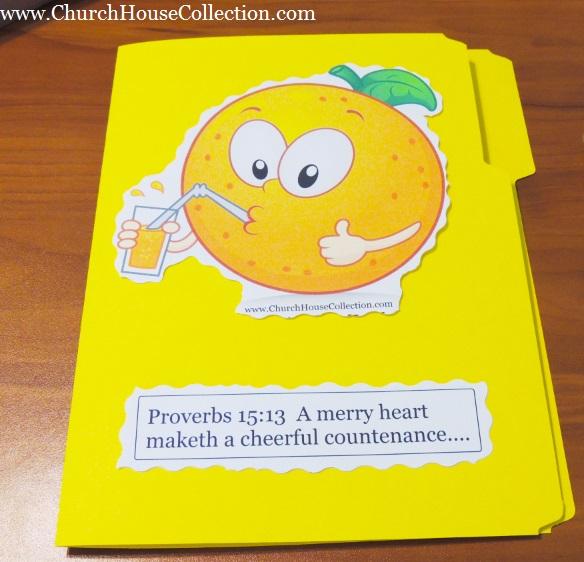 To make this folder lapbook I just printed the template off that had the orange drinking orange juice that came with the scripture. I just taped that to the front. The kids could also use stick glue.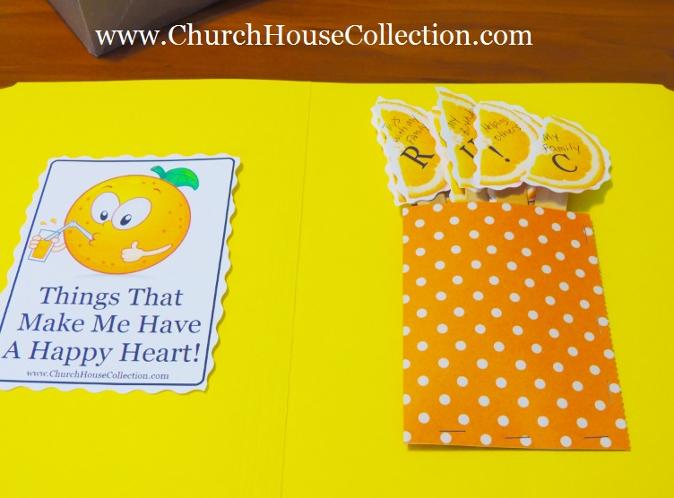 The inside of the folder has a "Things That Make Me Have A Happy Heart!" on the left hand side of the folder and on the right hand side it has the paper pocket filled with orange slice sticks.
Have the kids cut out each orange slice and write on each one what makes their heart happy. Tape this to a large popsicle stick and stick down in the paper pocket.
I made this pocket from my Cardmaking pad called Basics by Pebbles. www.pebblesinc.com. I picked this up from Hobby Lobby and it has 18 different designs in it and you just tear out a piece of the paper and fold it in half. This will turn it into a card. Then I stapled the bottom and sides of the card to turn it into a pocket. You could tape, glue, or staple the pocket to the folder.
Once the kids have finished writing and taping the sticks to the orange slice then they can just slide them down into the pocket. Of course you can also adjust or add more to the folder. This is just an idea to get you started.

The kids can write down anything they want that makes them happy.
Such As:
My Family
Summer Pool
Pizza
Baking Cookies
Trips With My Family
My Friends
My Birthday
My Puppy
Helping Others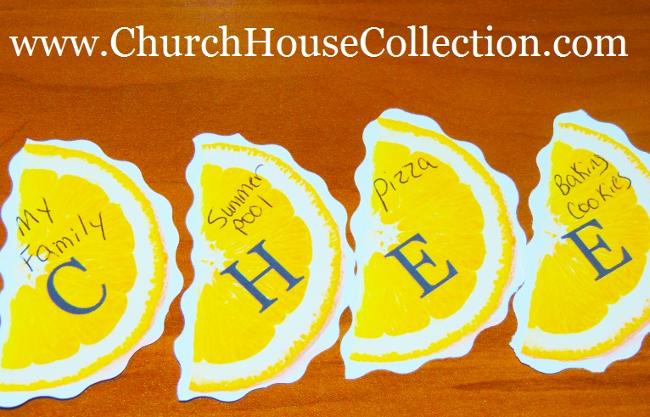 The orange slices were actually orange but my camera made them look yellow for some reason.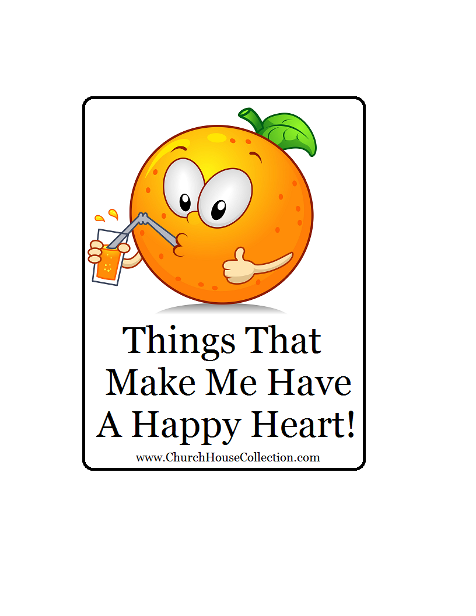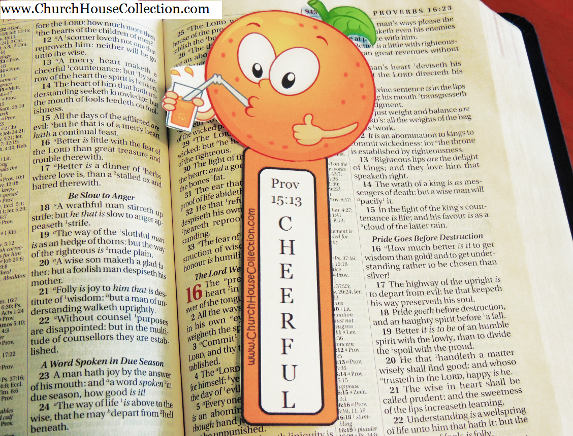 Here is a Proverbs 15:13 Orange Bookmark for your Bible. Just print on cardstock or paper and then laminate. The printable template is below.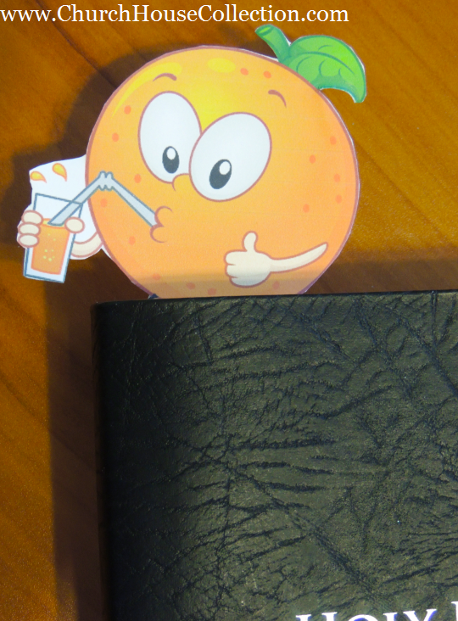 The orange will be sticking his head out of the book when you close it.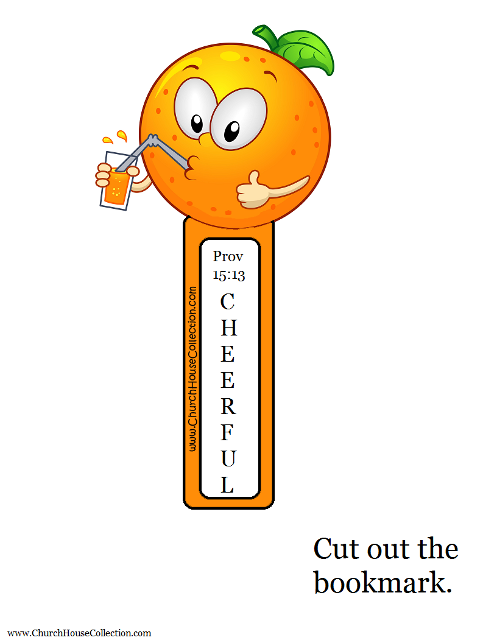 Orange Bookmark Template-printable version
Here is the Orange Bookmark Template. Just print on cardstock. If you want it to last then laminate it.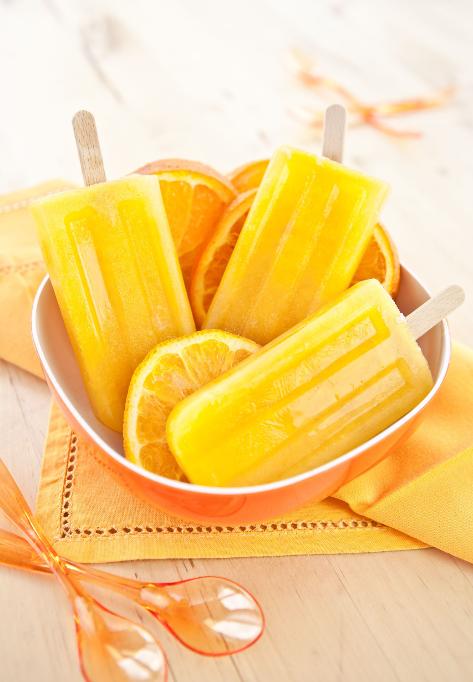 And if you need a quick and easy snack idea to go with this then try some orange popsicles. Or those orange pushpops. Those are always GOOD!
Back to Summer Sunday School Lessons