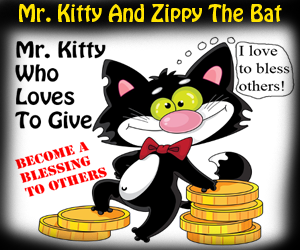 Mr. Kitty And Zippy The Bat©
"Mr. Kitty Who Loves To Give"
by Church House Collection©
I wrote this fun little story myself. :)
Printable version- Page 1, Page 2, Page 3, Page 4
Mr. Kitty was a kind cat. He loved to bless others.
Giving and helping others would make him feel good.
It brought Mr. Kitty joy to know that he was helping someone else.
Everyday when he woke up he would thank the Lord for His blessings.
Mr. Kitty didn't have much when he was a little kit cat.
He found himself doing without all the time.
He would go to bed hungry. He would wake up hungry.
He didn't have a family when he was little.
He didn't have anyone to show him the way.
Until later on in Mr. Kitty's teen years he stumbled across a bat named "Zippy".
Zippy the bat was an interesting character. He stayed in a dark cave along with his wife and kids.
Zippy was actually nice.
Zippy and Mr. Kitty became great friends. They would both hang out together in the cave and have cookouts and talk for hours.
Mr. Kitty had a lot of questions. Mostly about God. He didn't understand who the Lord was.
Zippy the bat understood things way beyond his time.
He was wise. He knew so much.
Zippy taught Mr. Kitty everything that was in the Bible.
He told him that the most important thing in life was that he should have a relationship with the Lord. And that he must confess his sins and become truly sorry for anything that he had done wrong in his life. Mr. Kitty accepted Jesus into his heart and wanted a change. He wanted to do something great and help others. He wanted a purpose. He wanted to know that the Lord was proud of him. He just wanted God to love him.
He never had anyone love him.
He just wanted that comfort and peace and joy to flood his little heart.
He wanted to make sure he was doing the will of God most of all.
Mr. Kitty didn't even realize that he was talking to a bat that was very important.
He had no clue.
You see, Zippy the bat was rich and powerful.
Most people didn't know it though. Most of all he was rich toward God.
Zippy the bat and his family was God's best friend.
God had blessed Zippy the bat with many things and Mr. Kitty didn't even know it.
Mr. Kitty was about to be blessed beyond anything he had ever dreamed could happen.
You see, Zippy the bat actually had a mansion that was attached to the back side of the cave.
He was extremely wealthy.
Not many knew that.
Zippy the bat kept it a secret.
He didn't want anyone to know. He did this for a good reason.
Zippy wanted a real friend, not someone that was fake and just wanted to be his friend because he was wealthy.
When Zippy was younger he worked really hard and most of all he spent a lot of time talking to God.
God was his buddy.
God blessed Zippy and his family for their hard work and most all because of their relationship with the Lord.
Zippy and his wife was always on the lookout for someone new that needed a blessing.
Mr. Kitty just happened to find his bat friend at the perfect time.
Mr. Kitty had prayed one night after a long talk with Zippy one night.
He asked God to help him find a good job so that he could help and bless other people.
And God answered his request.
Mr. Kitty was in for a big surprise! He was shocked when he found out that his friend was a successful bat.
Zippy the bat offered Mr. Kitty a job working on the computer.
Zippy put Mr. Kitty in charge of helping him run a very large business that was all online.
No one in Zippy's town even knew about what he was doing. No one cared.
Zippy and his wife had been working online for years and building up things that no one even knew about.
The blessings from God just poured over their lives.
Not only did Mr. Kitty get put in charge to help with this successful business online but Zippy the bat and his family blessed him with so much money and most importantly the knowledge of getting to know Jesus.
Getting to know God was the most important thing to Mr. Kitty.
Without God, he would be nothing.
Mr. Kitty worked hard online and talked to God everyday. He finally met " Mrs. Kitty" that became his wife.
They went on to have 3 kittens and were extremely blessed by God.
They lived their life for the Lord everyday and helped others to get to know him.
They gave money to help those in need.
They became a blessing.
Mr. Kitty became the very thing that he prayed and asked God for.
He wanted to bless others, and in return God blessed him and his family.
The End...
Psa 112:1 Praise ye the LORD. Blessed is the man that feareth the LORD, that delighteth greatly in his commandments.
Psa 112:2 His seed shall be mighty upon earth: the generation of the upright shall be blessed.
Psa 112:3 Wealth and riches shall be in his house: and his righteousness endureth for ever.
***********************************************************************************
Luke 6:38 Give, and it shall be given unto you; good measure, pressed down, and shaken together, and running over, shall men give into your bosom. For with the same measure that ye mete withal it shall be measured to you again.
***********************************************************************************
Luke 6:45 A good man out of the good treasure of his heart bringeth forth that which is good; and an evil man out of the evil treasure of his heart bringeth forth that which is evil: for of the abundance of the heart his mouth speaketh.
Here is some interesting facts about Bats!
Bat Information:
Bats may be considered dirty and unclean little creatures but they actually are clean and like to groom themselves just like a cat.
They control insect populations. They can eat thousands of insects in one night! They eat their own body weight in insects including those pesky mosquitoes.
They pollinate plants.
Bats spread seed which allows for new plants to grow.
Visit this website for more interesting information on bats and to even adopt a bat!
#SaveTheBats