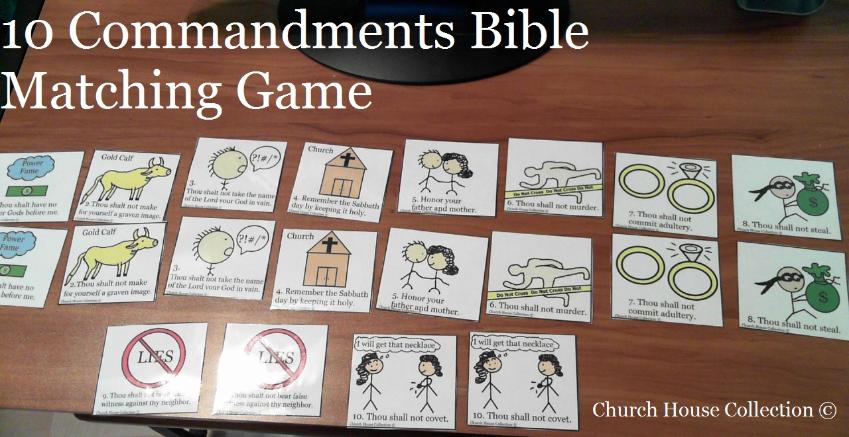 10 Commandments Bible Matching Game



Printable Version
Black and White page 1 page 2

This is a printable 10 Commandments Bible matching game. I made a black and white one and a colored one. Print two copies of page 1 and page 2 out. Cut all the pictures out. You could laminate these so they will last longer and use them again and again for bible game time. Turn them all over face down and let the child take a turn and flip two cards over. If they match then they get another turn, if they don't match then the turn goes to the other child.

This game is good for helping the kids to memorize the ten commandments from Exodus.

FYI: YOU MIGHT WANT TO ADD A PIECE OF BLACK CONSTRUCTION PAPER BEHIND THE WHITE PAPER BEFORE YOU LAMINATE IT. BECAUSE WHEN YOU TURN THESE OVER YOU CAN SEE RIGHT THROUGH THEM. IT NEVER OCCURRED TO ME THAT THE INK WOULD SHOW THROUGH ON THE BACK. I AM GOING TO HOT GLUE FELT OR BLACK CONSTRUCTION PAPER TO THE BACK OF ALL THESE NOW BECAUSE I MESSED THEM UP. SO DON'T MAKE THE SAME MISTAKE I DID. LOL

I actually printed the black and white templates out like a coloring page and had the kids color the pictures and cut each picture out and we stuck them in ziplock bags and wrote their name on the outside of the plastic ziplock. We leave them at church and each time we start a new commandment I have the kids get them out and have them say it with me twice out loud. The kids can look over them for a minute and try to get use to saying them. When we get through all ten lesson plans I will let them take them home with them.



KJV Scripture for Ten Commandments
Exodus 20:3-17

Exodus 20:3 Thou shalt have no other gods before me.

Exodus 20:4 Thou shalt not make unto thee any graven image, or any likeness of any thing that is in heaven above, or that is in the earth beneath, or that is in the water under the earth:

Exodus 20:5 Thou shalt not bow down thyself to them, nor serve them: for I the LORD thy God am a jealous God, visiting the iniquity of the fathers upon the children unto the third and fourth generation of them that hate me;

Exodus 20:6 And shewing mercy unto thousands of them that love me, and keep my commandments.

Exodus 20:7 Thou shalt not take the name of the LORD thy God in vain; for the LORD will not hold him guiltless that taketh his name in vain.

Exodus 20:8 Remember the sabbath day, to keep it holy.

Exodus 20:9 Six days shalt thou labour, and do all thy work:

Exodus 20:10 But the seventh day is the sabbath of the LORD thy God: in it thou shalt not do any work, thou, nor thy son, nor thy daughter, thy manservant, nor thy maidservant, nor thy cattle, nor thy stranger that is within thy gates:

Exodus 20:11 For in six days the LORD made heaven and earth, the sea, and all that in them is, and rested the seventh day: wherefore the LORD blessed the sabbath day, and hallowed it.

Exodus 20:12 Honour thy father and thy mother: that thy days may be long upon the land which the LORD thy God giveth thee.

Exodus 20:13 Thou shalt not kill.

Exodus 20:14 Thou shalt not commit adultery.

Exodus 20:15 Thou shalt not steal.

Exodus 20:16 Thou shalt not bear false witness against thy neighbour.

Exodus 20:17 Thou shalt not covet thy neighbour's house, thou shalt not covet thy neighbour's wife, nor his manservant, nor his maidservant, nor his ox, nor his ass, nor any thing that is thy neighbour's.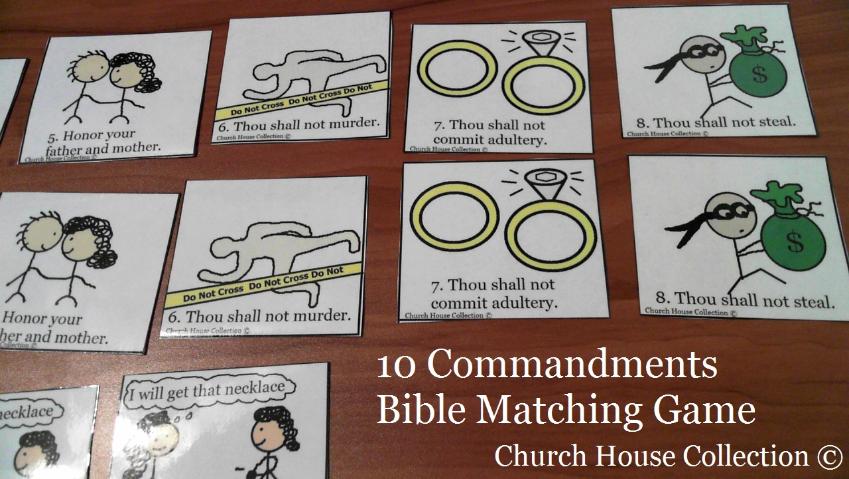 You must check out our Ten Commandments Sunday School Lessons that we created. I broke down all ten commandments that will take you through ten weeks for Sunday school or children's church. Each lesson was created with a matching craft, coloring page, snack and more. You must check these out if you looking for lesson plans that will take you weeks to get through. If you don't want the lesson plans and just want to skip straight to the Ten Commandments snacks then by all means head over that way.