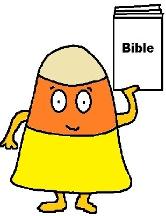 Candy Corn

Sunday School Lesson
Psalms 104:34- My meditation of him shall be sweet: I will be glad in the LORD.

This is our Candy Corn Sunday school lesson for small kids. This lesson plan has a free printable lesson with tons of matching materials to go with it. These candy corn coloring pages and crafts will keep your kids busy learning and having fun at the same time. Just pick out what you need and print it out.
Just print on cardstock and tape to a small plastic cup filled with snacks like popcorn and candy corn.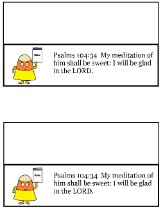 Candy Corn
Sandwich Ziplock Bag

Fits an 6 1/2 X 5 7/8
Fill a ziplock bag with snacks and staple this template to the top. Hand out for a cute fun snack during Children's Church or Sunday school.