Thanksgiving

"One Thankful Man"
Sunday School Lesson
Luke 17:11 And it came to pass, as he went to Jerusalem, that he passed through the midst of Samaria and Galilee.
Luke 17:12 And as he entered into a certain village, there met him ten men that were lepers, which stood afar off:
Luke 17:13 And they lifted up their voices, and said, Jesus, Master, have mercy on us.
Luke 17:14 And when he saw them, he said unto them, Go shew yourselves unto the priests. And it came to pass, that, as they went, they were cleansed.
Luke 17:15 And one of them, when he saw that he was healed, turned back, and with a loud voice glorified God,
Luke 17:16 And fell down on his face at his feet,
giving him thanks
:
and he was a Samaritan.
Luke 17:17 And Jesus answering said, Were there not ten cleansed? but where are the nine?
Luke 17:18 There are not found that returned to give glory to God, save this stranger.
Luke 17:19 And he said unto him, Arise, go thy way: thy faith hath made thee whole.

Thanksgiving
Just print and cut out. Fill with a sucker and fold the tabs down and tape in the back with a sticker or piece of tape.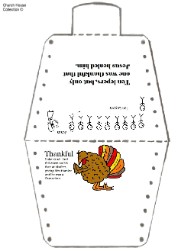 Thanksgiving
Print on cardstock. Punch holes on the dotted holes and fold up together and lace it with yarn or string.


Thanksgiving
"One Thankful Man"
Fits a ziplock bag 6 1/2 X 5 7/8. Just print and cut out both templates. Fold over a snack filled ziplock bag and staple.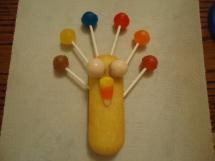 Turkey Snack Food Idea
Let the kids make this funny turkey just for kicks! Just stick two strawberry malt balls on a Twinkie for eyes, 6 suckers for feathers and 1 candy corn for the beak. Too much sugar for your child? Then try using an apple for the turkey and grapes on a toothpick for feathers and eyes.